Care
PROTECTION YOU CAN SEE THROUGH
Your print is protected in its own CrystalView archival cellophane sleeve which keeps it dust-free and smudge free and ensures that you'll get the product as near to perfect as humanly possible. You may opt to keep your print within its sleeve, and why not? It will continue to keep your print safe and is glare-free to boot. If you can't decide, don't worry. The cellophane sleeve is resealable.
For archival storage, the print is mounted with archival-quality, removable microdots on an acid-free backing. Gently lifting the print to separate the two will allow the print to be mounted and framed. If you do frame the piece, we recommend using UV glass to protect the image from sunlight, which can discolor the print.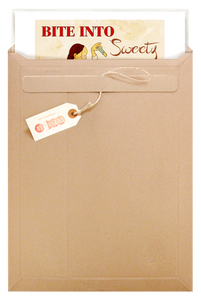 SAFE IN SHIPPING
The non-descript brown envelope is certainly misleading. Aside from the Curio & Co. stamp on the front, it barely hints at the fantastic artwork contained inside. Still, it has to be plain because it's got to be sturdy. The only way we can sleep at night is by knowing that your print won't get knocked around or snagged on anything. And that brown envelope – in comforting, durable cardboard – puts our minds at rest. Plus, it's acid-free and fully recyclable. So you can put your environmental worries aside and get a good night's sleep too.
TAGGED FROM US TO YOU
That tag you find is another sign that you've got a genuine Curio & Co. item in your hands. You can snip off the tag if you like – which will feel great, knowing that the print is all yours now! – or you can slip the tag through the knot to get to the envelope's pull tab. The envelope flap's seal will keep the tag on the envelope so you can keep a record of what's inside.
Giving the item as a gift? What a terrific friend you are! In that case, you can write the name of your sure-to-be grateful friend on the reverse of the tag, and your wrapping is done! We won't ever slip the bill or any other pesky sign of your item's purchase history in the envelope, so feel free to keep your secret of what a great deal you got.