Quality
THE PRINTING PROCESS WHAT IS A GICLÉE?
Glad you asked. A giclée is a high-quality, digitally-produced fine art print. The term was coined in 1991 by Jack Duganne at Nash Editions to distinguish archival-quality prints from the utilitarian proofs of standard inkjet printers.
The image is generated from high-resolution digital scans of the original and allows for the incredibly detailed prints seen in museums and galleries. A giclée provides better color accuracy than any other type of reproduction, and has all the tonalities and hues of the original work.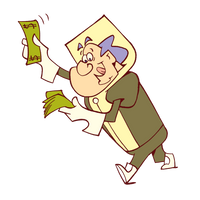 PAPER AS GOOD AS MONEY
Our giclées are printed on cotton paper (otherwise known as 'rag paper'). Cotton paper is stronger and more durable than wood pulp paper, and resists fading, discoloration or deterioration, so it's used for important documents and archival-quality artwork. Cotton paper is what they use to print money – which just goes to show what a good investment it is. (If it's good enough for the National Treasury, it's good enough for us.)
Our paper comes from Hahnemühle FineArt GmbH, which has been manufacturing paper since 1584. Their paper is made with pure spring water and high-grade cotton, and traditional recipes are still used to make paper for painters, illustrators, bookbinders, and of course, Curio & Co.
PIGMENTS TO LAST
Special artwork and special paper requires special ink. Our giclées use pigment inks, rather than the standard dye-based inks used in regular printers. Pigment inks provide better image stability and last longer and than any other method. Since the pigment doesn't dissolve completely and soak into the paper the way that dye-based inks do, pigment inks are more water resistant and won't bleed at the edges of an image. What's more, because pigment molecules stack themselves on top of the paper, it's harder for sunlight or chemicals to react with the pigment molecules – making the image highly resistant to fading.
For all of this, of course, pigment inks are more expensive than dye-based inks, but when protected from air and sunlight, these inks will last many, many years. And when something looks this good, you want to keep it around.