Ringing in the New Year with Philip La Carta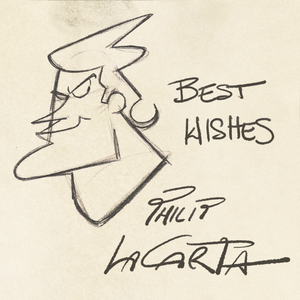 Well, getting to meet him and having a slice of his wife's fruit cake. But it was a big celebration for us.
When we got Philip La Carta's phone call agreeing to sign copies of a Spaceman Jax Model Sheet for us, there was some dancing around the office, to be sure.  But visiting La Carta at his home to pick up the signed Model Sheets was a big deal. 
La Carta asked us to stop by on the 31st, since he didn't want to be out on the roads on the holiday ("Those drivers are nutso," he said.) and he wanted us to have the prints before the New Year. We expected just to stop by and collect them from someone at the door. Instead, La Carta invited us in and we spent four hours talking about his career in animation and eating his wife Loretta's fruit cake. La Carta designed some of the best-known and most-loved cartoon characters from the 50s and 60s.  So we were in heaven. (And Loretta sure knows how to make a mean fruit cake.)
He talked about designing Spaceman Jax ("Once I had that dopey grin, I knew I was getting close.") and told hilarious stories about working for p.u.d. Film in the sixties, complete with pitch-perfect impersonations of studio heads Ulrich and Pendergast. 
The best part?  Finding out that the guy who created some of your favorite childhood memories is one of the nicest, sweetest, most generous guys around.  Sometimes things can be even better than you remembered.
La Carta signed 1000 prints for us – if you didn't pre-order yours, get 'em while they last.

 

They broke the mold when they made this guy.