Brigadier Buffalo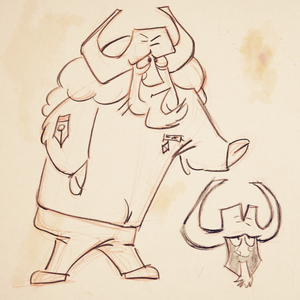 Brigadier Buffalo is one of those shows that made Saturday mornings complete when we were kids. Maybe it was the sugar rush from those endless bowls of Sunnington Morn cereal, maybe it was the silly plots, or the appealing characters. Whatever it was, here in the office we've been reminiscing over the show (And actually, we could go for a bowl of that cereal now – too bad it's discontinued!)
The main reason we've been thinking about the show, is the package from Philip La Carta that Mr. Druthers received recently. La Carta, of course, designed Brigadier Buffalo, along with other great shows like Spaceman Jax and the Galactic Adventures and Manfred J. Platypus, P.I. 
It's hard to imagine that someone still has this original material – but in the late 50s/early 60s no one was looking to collect his material and the garbage bins were full of this good stuff.  You just needed to know where to look. James Tim Walker tells stories of how as a child he used to go digging through the Hanna-Barbera bins for original work – and he found some amazing stuff. We've seen it!
Mr. Druthers hasn't shown us the whole package, but we got a look at some of the designs La Carta did for Brigadier Buffalo – and we're pretty excited!