Perfect Role Model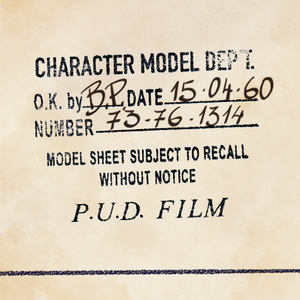 WHEN A LOT OF ARTISTS ARE WORKING ON THE SAME CHARACTER IN AN ANIMATED FEATURE OR SHORT, IT'S IMPORTANT TO MAKE SURE THE CHARACTER LOOKS THE SAME IN EVERY SCENE.  ENTER THE MODEL SHEET.
Model sheets, also known as character sheets, are reference guides used to standardize the appearance, pose, and gesture of a character to keep it consistent throughout the production or over a series of shorts or episodes.  Usually, several model sheets are needed for a character: one might show a rotation or turnaround to show the character from all angles, another would show a close up of the face and head for expressions, and others might include action poses, gestures and body language, or costumes for specific episodes. 
As they were created for internal use only, they are not so widely available for collectors.  We were excited last year to get our hands on an original model sheet for Spaceman Jax that was drawn by Philip La Carta, character designer at p.u.d. film.  We met La Carta when he agreed to sign the reproduction copies of the print (available here).
We shared cake, and hilarious stories of the animation industry in the 1960s (we ate, he talked).  In one of the many behind-the-scenes tidbits he gave us, he explained the large stamp of the number 1 on the sheet indicates that it was the first model sheet (he thinks there were six model sheets done originally for Spaceman Jax, and that they added several more to reflect costume or other changes throughout the series).  And the B.P. who okay-ed the model sheet is Bill Pendergast.  You should hear La Carta's impersonation of him...
Oh, and we might have got him to show us some more of his work from that period.

 

Yes, we were very, very excited.

 

And no, we can't tell you what.

 

Not yet.