The best who-dunnit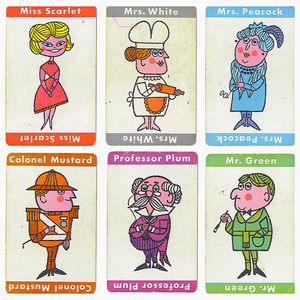 It was Professor Plum, in the Ballroom with the Lead Pipe.
One of the best all-time, classic games has got to be Clue (Cluedo outside of North America).  The simplicity of the game, mixed with enough variables to ensure that you never get the same game twice, has kept game lovers bringing this box down off the shelf for over sixty years.
Created in 1944 by Anthony Pratt, an English solicitor's clerk, the game was originally intended to while away the time during air raids.  The game was picked up by British game-maker Waddingtons in 1947 and then almost immediately by Parker Brothers in the US.
The game has spawned over twenty spin-off versions and specialty versions of the game available - with pop culture personalities standing in for the familiar Clue characters.  Bizarrely, there doesn't seem to have been a version of the game with the characters from the cult film.  ("Flames, on the side of my face...")
Still, for us it's got to be the old battered box from childhood days (and you're better off just letting Margie be Miss Scarlet).
Did you know? The original version had more weapons: an axe, bomb, syringe, poison, cudgel, and fireplace poker.