Comic-Con 2016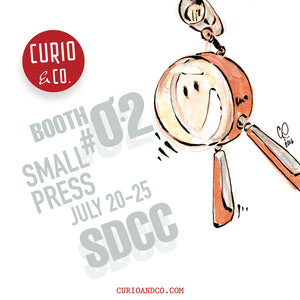 Our favorite time of year has arrived – it's finally Comic-Con time!
The Curio & Co. year basically revolves around these five days in San Diego: we're either gearing up for Comic-Con or coming down from it. 
During Comic-Con we connect with old friends and meet new friends. We get up close and personal with artists whose work we've admired from afar, and we celebrate each rarity we manage to hunt down. Comic-Con is like Thanksgiving, New Year's and Valentine's Day all rolled into one. Can you sense our goosebumps?
But of course, it's not all about us. We'll have a variety of treasures for you: pins, vintage posters and plenty of books. Plus, we'll have all your favorite characters like Frank and His Friend, Spaceman Jax and Roger Believe.
Most importantly, however, we've poured through the archives to find you curios that you won't find anywhere else! We won't say more about these treasures yet – but you've got to see 'em to believe 'em! Come back for more information after the big reveal.
If you'll be in San Diego for Comic-Con, drop by and say hello – we'd love to see you! We'll be at booth o-2 in the Small Press section. We can't wait to catch up!