Lost and Found
Some Things Were Never Meant to Last
Of course, some of this stuff was never meant to last in the first place. Many of the things we loved as kids were intended to be just as ephemeral as childhood itself. The ads for Oberpfaffendorfer product, although beautiful, were only supposed to stay up until the next campaign came out. And the cereal companies that sponsored our favorite cartoons knew that kids were fickle, and so were always ready to move on to the next big thing. (Spaceman Jax was, after all, only on the air for three seasons.)
Even the production companies that made our favorites thought so little of the art that they just tossed out or gave away the drawings when each episode was finished.
(Years later, when studios realized that it might be good to build up an archive, many of those studios had to buy the drawings back in the same auctions collectors look for treasures.)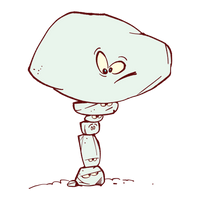 One man's trash is another man's treasure
One of the highest selling animation production drawings - a page of Zalfonen from Spaceman Jax and the Galactic Adventures - sold for $75,000 and was donated to the MANK Museum for Comics and Animation. The seller had originally pulled the drawing out of the trash bins behind p.u.d. Film studios when he was only seven years old.
collecting