Lost and Found
Holding On To The Past
When you're a kid, time seems to last forever, but it's only once you get older that you understand how fleeting it is. You misplace your favorite eraser, your favorite TV show gets cancelled, and then one day much later, you discover that your mother has thrown out your entire collection of comic books. Just like that - it's gone.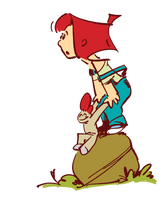 Give Your Collection to Grandpa
Mothers are only slightly more likely than fathers to throw out a comic book collection (34% vs. 29%), according to a study by the Huntley Smoot University for Comic Sciences. Grandfathers are the least likely to toss a comic book collection (4%) - but are also the least likely to throw anything away, even back issues of Hog Oilers Today.
collecting