Memory is the Best Time Machine
There's No Time Like the Present
People are always joking about how there are only 24 hours in a day, but for the folks working at Cudworth-Hooper in the 1950s, that might not have been the case.
Jay Laramie, our Head of Aquisitions, is always excited about an auction that includes printed ephemera - there could be souvenir maps for world fairs and tickets to amusement parks and expositions, programs and posters for early films or long-forgotten advertisements. What he found at one particular auction was something called the Cudworth-Hooper Owner's Manual: Operation and Maintenance for the Gadabout TM 1050. According to the introduction, the Gadabout is a "lite-vacuum time machine", manufactured by Cudworth-Hooper in 2350.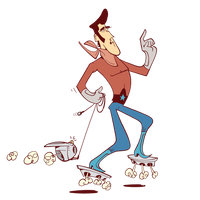 We know what you're thinking, but all our calls to Cudworth-Hooper went right to voice mail. It could explain how a company with more than 30 divisions can continue to manufacture such a huge variety of products. But then again, these are the same people who shipped thousands of bicycles with no wheels. So they aren't really the most forward-thinking company.
nostalgia