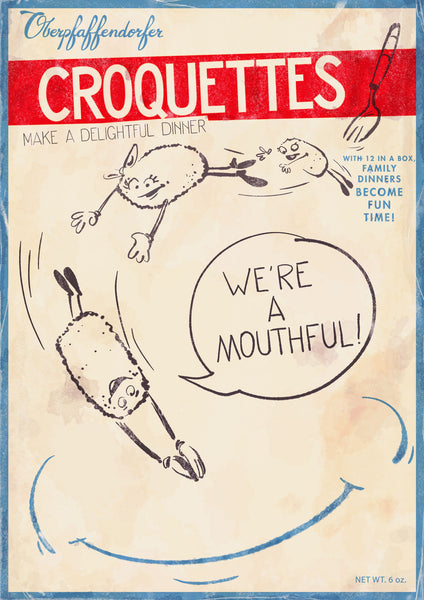 Sold and shipped by

Curio & Co.
---
2-4 working days delivery
---
The television commercial made in the 1950s for Oberpfaffendorfer's croquettes is adorable. The animated croquettes dance in a conga line around the plate, until one by one they dive off the fork into a waiting mouth. The last one turns to the camera to deliver the company's slogan, "Oberpfaffendorfer – We're a mouthful!", playing on the company's difficult to pronounce name as well as its reputation for hearty food. I'm sure you've seen it.
Well, this is the 1947 magazine ad that started it all. This reproduction of the original Oberpfaffendorfer ad is part of a rare edition of giclée prints.
Each print carries an official Curio & Co. stamp and comes with an embossed Certificate of Authenticity. For more information on product materials, click here.
And the best thing about this print? All of the comforts of a family dinner, with none of the calories!
General Details
Year: Reproduced in 2012 from 1947 original
Material: Giclée print
Paper: Hahnemühle museum quality acid-free paper
Size: 26.7 x 33.0 cm (10.5 x 13 in)
Image Size: 20.32 x 28.6 cm (8 x 11.25 in)
---
---