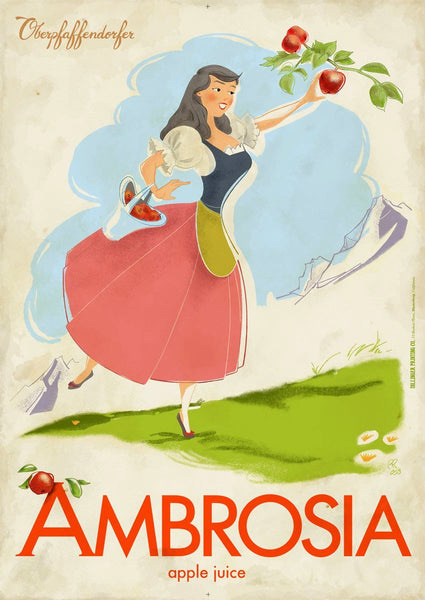 Sold and shipped by

Curio & Co.
---
2-4 working days delivery
---
In Greek Mythology, ambrosia is the nectar of the goods, conferring immortality upon whoever drinks it – which is a pretty ambitious claim for a juice made from concentrate. One thing that isn't an exaggeration, however, is how beautiful this print is advertising the beverage.
Released in 2013, this reproduction of the original Oberpfaffendorfer ad is part of a rare edition of giclée prints. Designed in 1958, the advertisement features an illustration by artist Renée Porraneo, whose relationship with Oberpfaffendorfer dated back to the early 1900s. In this image, Porraneo transports you to the Alps and brings you the memory of crisp, sweet apple juice and the feeling of simpler days.
Each print carries an official Curio & Co. stamp and comes with an embossed Certificate of Authenticity. For more information on product materials and packaging, click here.
Will it grant you immortal life? Well, there's only one way to know for sure.
General Details
Year: Reproduced in 2013 from 1958 original
Material: Giclée print
Paper: Hahnemühle museum quality acid-free paper
Size: 26.7 x 33.0 cm (10.5 x 13 in)
Image Size: 20.32 x 28.6 cm (8 x 11.25 in)
---
---