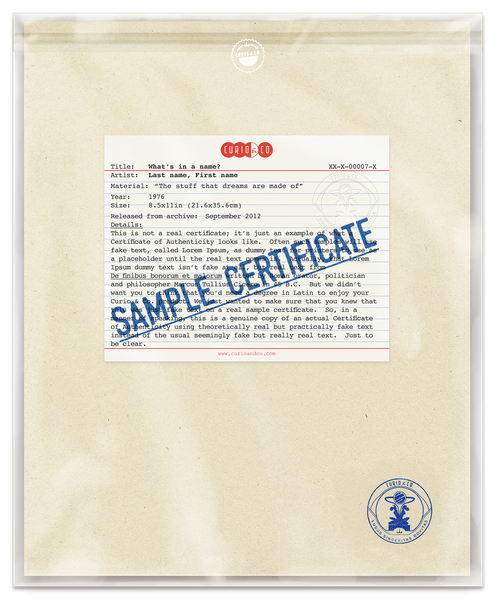 Sold and shipped by

Curio & Co.
---
2-4 working days delivery
---
The recipe for simulated gold flakes is about the best kept secret in soft drink history. Donald J. Prufrock, Jr., President of the Bunchy Bottling Company and son of the drink's inventor, said the recipe was divided into three parts and given to different men for safe-keeping. He said that even he didn't know the identity of those three men.
If you dig deep enough, you can find a few recipes online claiming to be the real thing. But they just never taste right.
One of the most popular rumors was that the company hadn't bothered to develop simulated gold flakes and just used the real thing. Mr. Prufrock certainly never denied it.
Wherever they come from, those genuine simulated gold flakes sure lend glamour to the soft drink in this reproduction of the original Bunchy "One is not enough" ad from 1957. Released in June 2012, the piece is part of a unique giclée print edition of vintage Bunchy advertisement campaigns.
Each print carries an official Curio & Co. stamp and comes with an embossed Certificate of Authenticity. For more information on product materials, click here.
So frame this and hang it where your friends can see it. And when they ask about the genuine simulated gold flakes, tell them you're sworn to secrecy. Who knows, maybe one of those three men was your Grandfather.
General Details
Year: Reproduced in 2012 from 1957 original
Material: Giclée print
Paper: Hahnemühle museum quality acid-free paper
Size: 26.7 x 33.0 cm (10.5 x 13 in)
Image Size: 25.5 x 29.2 cm (10 x 11.5 in)
---
---